Environmental Issues > Global Warming Main Page > All Global Warming Documents
"Emissions Intensity" -- Pollution by Any Other Name?
Why emissions keep growing under the Bush administration plan.
The Bush administration's voluntary approach to global warming focuses on reducing emissions intensity -- the ratio of carbon dioxide to a measure of economic output. But under the administration's plan, even as emissions intensity improves, total emissions will keep on rising. To combat global warming effectively, the government must focus its policy on reducing the total amount of heat-trapping pollution in the atmosphere.
Emissions intensity is the ratio of carbon dioxide emissions to a measure of economic output. For the economy as a whole, emissions intensity is usually expressed as emissions per dollar of gross domestic product. For the electricity sector, emissions intensity is usually expressed as emissions per kilowatt-hour of electricity generation.
Emissions Intensity vs. Total Emissions
Total emissions can keep increasing as emissions intensity improves. Indeed, the emissions intensity of the U.S. economy has improved for 30 years -- partly because energy efficiency has improved, and partly because economic growth has been faster in relatively clean sectors, such as information technology and services. Nevertheless, total U.S. emissions have grown steadily because the economy has grown faster than the rate of emission intensity improvement:
Since 1990 the carbon dioxide intensity of the U.S. economy fell by 20 percent. But GDP grew by 46 percent over this period. Hence, total carbon dioxide emissions increased by 17 percent.

The carbon dioxide intensity of electricity production has improved by only 3 percent since 1990. Electricity consumption grew by 30 percent over this period while total carbon dioxide emissions from electricity production grew by 26 percent.1

Unless emissions intensity improves faster than the economy grows, total emissions just keep rising.
Falling Behind
Two years ago, President Bush said it was his goal to "slow, stop and reverse" U.S. global warming emissions growth. He set a target of reducing the emissions intensity of the U.S. economy by 18 percent between 2002 and 2012.
The administration plan relies only on voluntary action to meet this target. But even if this target is met, total U.S. global warming emissions will still increase by 14 percent between 2002 and 2012 -- exactly the same rate as they grew in the 1990s.2
The reason is that the president's target for improving emissions intensity is less than the expected rate of economic growth.
Mirroring the administration's overall plan, the electric power industry has reached a voluntary agreement with the Energy Department that will keep increasing this sector's carbon dioxide pollution indefinitely.
Under the industry plan, announced in December 2004, the emissions intensity of electric power production will improve by 3 percent to 5 percent between 2002 and 2012. Given expected increases in electricity production, this means that power plant emissions will grow by 15 percent to 17.5 percent over this period -- about the same rate as the Energy Information Administration's business-as-usual projections.3
Pulling Even, But Barely
Recently the National Commission on Energy Policy recommended a mandatory cap on U.S. global warming gas emissions, also structured in terms of emissions intensity. As a mandatory program that would eventually stop the growth of global warming pollution, the NCEP proposal is a step up from the administration's approach. But the plan would not reduce total emissions.
The NCEP calls for improving emissions intensity by 2.4 percent per year from 2010 to 2020 (slowing emissions growth) and by 2.8 percent per year thereafter (stopping emissions growth). (Although the chart below shows a "reverse" growth phase, the NCEP did not recommend specific policies to achieve this objective.)
Source: NCEP (2005)
Being More Intense About It
It is possible to frame a policy in terms of emissions intensity and still reduce overall emissions. To do that, government policy must make emissions intensity improve faster than economic growth. That requires a more ambitious emissions intensity target.
Hard to Measure
Even so, using emissions intensity as the metric poses significant implementation difficulties. Using a metric of emissions intensity is most feasible in industries that produce a highly uniform product. The best example is electricity, production of which is uniformly measured in kilowatt-hours. Another example may be cement production.
But most industries produce a range of non-standardized products. There are many types of steel, aluminum, or chemical outputs, and different mixes of such outputs at different plants. The lack of standardization makes it more difficult to use an emissions-per-unit-of-output metric.
An option is to measure emissions-per-dollar-value-of-output. The problem here is that fluctuations in the cost of other inputs or in the price obtained for products can randomly affect an industry's apparent emissions intensity.
Keep Your Eye on Total Emissions
In the end, the atmosphere doesn't care about emissions intensity. Global warming is caused by the total amount of heat-trapping pollution in the atmosphere.
So while emissions intensity can be a useful way to examine emissions trends, what matters to the environment is total emissions. The bottom line is that we can't solve the global warming problem by increasing emissions, regardless of how trends are expressed.
Notes
1. U.S. EPA (2005), "Draft Inventory of U.S. Greenhouse Gas Emissions and Sinks: 1990-2003." at ES-24. yosemite.epa.gov/oar/globalwarming.nsf/content/ResourceCenterPublicationsGHGEmissionsUSEmissionsInventory2005.html
2. NRDC (2002), "Untangling the Accounting Gimmicks in White House Global Warming, Pollution Plans," www.nrdc.org/globalWarming/agwcon.asp.
3. The power sector's pledge is contained in "Climate Vision Memorandum of Understanding Between the United States Electric Power Sector and the Department of Energy (Dec. 13, 2004), www.climatevision.gov/sectors/electricpower/pdfs/powerpartners_mou.pdf. The pledge is to reduce the average emissions intensity during 2010-2012 by 3-5 percent from the 2000-2002 average. Given the Energy Information Administration (EIA) forecast of electricity generation growth over this period, this translates into 15-17.5 percent total emission growth. The EIA forecast of emissions growth over the same period is about 17.8 percent. (EIA emission data for 2000-2002 compiled from "Emissions of Greenhouse Gases in the United States 2003," (Table 11), ftp.eia.doe.gov/pub/oiaf/1605/cdrom/pdf/ggrpt/057303.pdf; EIA emissions projections for 2010-2012 compiled from "Annual Energy Outlook 2005," www.eia.doe.gov/oiaf/aeo/aeoref_tab.html (Table 18).)
last revised 8/23/2005
This Is Global Warming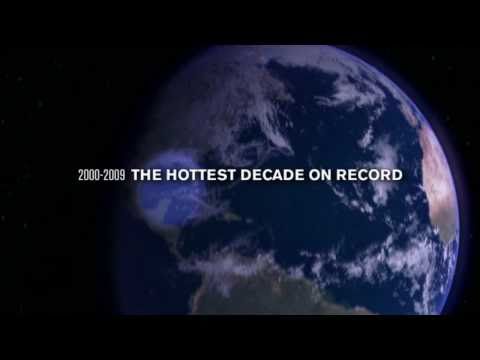 Watch the Video »
Our new video shows the effects of global warming in the world today.
NRDC Gets Top Ratings from the Charity Watchdogs
Charity Navigator awards NRDC its 4-star top rating.
Worth magazine named NRDC one of America's 100 best charities.
NRDC meets the highest standards of the Wise Giving Alliance of the Better Business Bureau.
Switchboard Blogs
posted by Briana Mordick, 2/5/16
posted by Pete Altman, 1/28/16
posted by Barbara Finamore, 1/27/16