Environmental Issues > Global Warming Main Page > All Global Warming Documents
Global Warming Science: An Annotated Bibliography
A summary of recent findings on the changing global climate.
Modern Global Climate Change
Science 2003 302: 1719-1723
(December 2003)
Two prominent U.S. government scientists, Dr. Thomas Karl of the National Atmospheric and Oceanic Administration and Dr. Kevin Trenberth of the National Center for Atmospheric Research, published a paper in the December 5th issue of Science concluding that human influences are the dominant factor in recent global warming and that "in the absence of climate mitigation policies . . . the likely result is more frequent heat waves, droughts, extreme precipitation events and related impacts [such as] wildfires, heat stress, vegetation changes and sea-level rise."
Human Impacts on Climate
American Geophysical Union
(December 2003)
The American Geophysical Union, the largest scientific organization of earth scientists, issued a new position statement on December 16th, concluding that "Scientific evidence strongly indicates that natural influences cannot explain the rapid increase in global near-surface temperatures observed during the second half of the 20th century." The drafting committee for this consensus statement included John Christy, whose work to measure atmospheric temperatures using satellites is often cited by global warming naysayers.
Offsetting the Radiative Benefit of Ocean Iron Fertilization by Enhancing N2O Emissions
Geophysical Research Letters, vol. 30, no. 24, 2249
(December 2003)
In recent years, researchers have been looking for ways to remove carbon dioxide from the atmosphere and sequester it somewhere where it cannot contribute to global warming. One hypothesis has been that "fertilizing" the ocean with extra iron would stimulate phytoplankton in the ocean to absorb more carbon dioxide through photosynthesis. Adding iron to the ocean will not reduce global warming, however, according to a paper by Xin Jin and Nicolas Gruber in the December 15, 2003, issue of Geophysical Research Letters. As phytoplankton remove extra carbon dioxide from the atmosphere in response to iron fertilization, they also release nitrous oxide, a much more powerful greenhouse gas, which offsets any benefits from absorbing carbon dioxide.
An Abrupt Climate Change Scenario and Its Implications for United States National Security
U.S. Department of Defense
(October 2003)
This Defense Department study, obtained by the media in February 2004, looked at the impact of abrupt climate change on national security. Abrupt climate change is a worst-case scenario, which scientists consider a plausible, though uncertain, consequence of global warming. It draws heavily from a National Academy of Sciences report published in 2002 which said the likelihood of crossing a threshold that triggers abrupt climate change grows when the climate is pushed hardest by rapid loading of the atmosphere with heat-trapping pollution.
The authors of the report ordered by the Pentagon say that such a scenario could lead to global food and water shortages that would drive widespread migrations and border conflicts worldwide. While scientists believe this extreme scenario has a low probability, the serious economic, health, and environmental effects expected from mainstream mid-range global warming forecasts are much more certain and fully support prompt action to cut heat-trapping emissions. The very high consequences that would result from the scenarios reported to the Pentagon reinforce the importance of action now to reduce these emissions.
Fingerprints of Global Warming on Wild Animals and Plants
A Globally Coherent Fingerprint of Climate Change Impacts Across Natural Systems
Nature v. 421: 37-42; 57-60
(January 2003)
The relatively small global warming that has occurred to date has already changed the habits or forced significant shifts in the range of many species of birds, insects, fish and plants, according to the authors of these two studies published in the prominent scientific journal Nature. Such altered habits and forced moves -- to everything from English butterflies, California Starfish, Estonian birds, and Alpine herbs, could seriously disrupt a wide array of ecosystems, the studies' authors said. On average, the species' geographic ranges have shifted toward the poles at a rate of 4 miles per decade and the species' spring events have shifted earlier by 2 days per decade. The breadth of data covered in the reports allowed the authors to express their findings with a far greater certainty than they could have a decade ago, they said.
The news is especially alarming considering such shifts have occurred with an average increase of only 1 degree Fahrenheit over the last century. "If we're already seeing such dramatic changes [among species], it's really pretty frightening to think what we might see in the next 100 years," Dr. Terry L. Root, a Stanford University ecologist and lead author of one of the reports, told The New York Times.
Scientists predict average global temperatures during the 21st century could jump as much as 10 degrees if we do not cut emissions of the heat-trapping gases that cause global warming. The studies provide the latest compelling evidence that we must cut emissions of heat-trapping gases like carbon dioxide to avoid widespread ecological disruption. They were conducted by researchers at Stanford, Wesleyan and the University of Texas, among others.
---
Studies By Year: [
Intro
] [
2008
] [
2007
] [
2006
] [
2005
] [
2004
] [2003] [
2000 to 2002
]
---
This Is Global Warming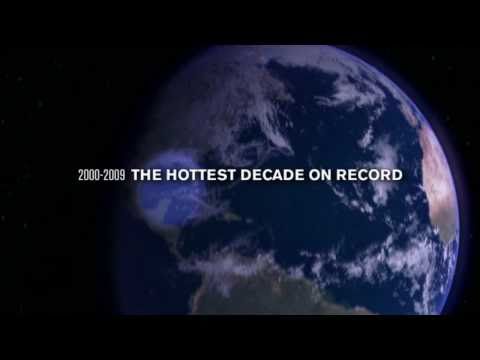 Watch the Video »
Our new video shows the effects of global warming in the world today.
NRDC Gets Top Ratings from the Charity Watchdogs
Charity Navigator awards NRDC its 4-star top rating.
Worth magazine named NRDC one of America's 100 best charities.
NRDC meets the highest standards of the Wise Giving Alliance of the Better Business Bureau.
Switchboard Blogs
posted by Barbara Finamore, 2/12/16
posted by Jake Schmidt, 2/12/16
posted by Briana Mordick, 2/5/16